Cardi B Stirs Raunchy Expressions  After She Commented On Offset's Grammy Nomination Celebratory Post
The "Money Bag" singer recently took to social media to flirt with the Migos rapper.
American Raper Cardi B has left a vulgar expression on fans after she commented on her husband Offset's proud Grammy nomination celebratory post.
The proud wife was nowhere close to shy when it comes to showing her affection for her husband Offset.
On Thursday November 21 2019, Offset shared a video on Instagram of celebratory video of himself, showing off his new Ferrari he purchased.
The 27-year-old father of one and rapper revealed that due to him receiving a grammy nomination, he gifted himself a brand new luxury car.
Offset and his wife Cardi B were nominated for Best Rap Performance for their collaborative hit "Clout" at the 2019n Grammy Awards. The song came from Offset's Father of 4 release."
The Rapper's wife share her thoughts underneath the post. The "Money" rapstress explicitly told Offset how the post made her feel.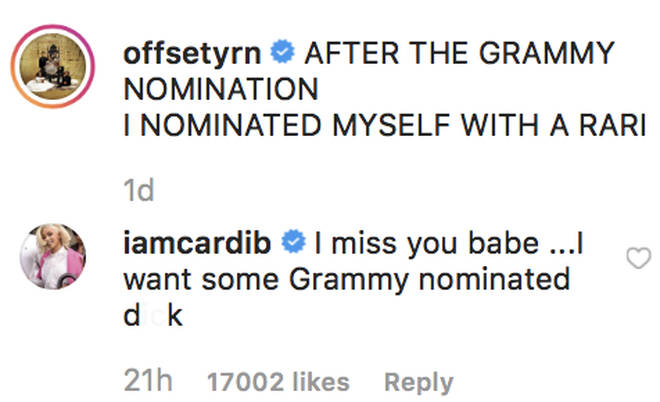 She wrote "I miss you babe," wrote the rapstar before truly saying what she wants. "I want some Grammy nominated d*ck" wrote Cardi B underneath the post.
See comments:
mandaprtty2332 :@balindamercedez "Bitch shut the F-ck up. And who are you again ?? A black ass nobody and Why on earth would I be mad about that? It was just a statement and being a celebrity don't mean shit. Get the hell off my comment looking broke🙄"
flower134:@mandaprtty2332 "YOU are the one hating on these 2 bitch 😂😂😂 you're the hater. On cardi voice : go suck a dick and choke bitch 😂"
jasxy_badd: @iamcardib "you want what you want fuck them that's your husband 😘🤞🏽😍"
ALSO READ:WATCH VIDEO: CARDI B TALK ABOUT HER 'SPICY' & 'CONTROVERSIAL' 2020 ALBUM